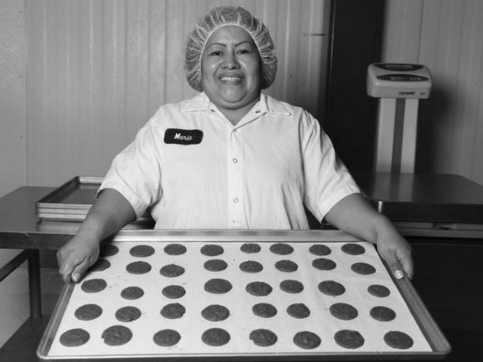 The Hudson Valley Technology Development Center (HVTDC) congratulates Greyston Bakery on their grant awarded by the Hudson Valley Office of the Workforce Development Institute (WDI). The funds will be used in support of the purchase and implementation of PRIMS Production Wizard software to improve operations at the bakery. The new software will allow the organization to manage, monitor, and report on productivity for all functions, improving operational efficiencies and ensuring continued success of the program. The new capabilities will afford Greyston the ability to better monitor costs, compete effectively in the market, win more business, and grow their employee base. Ultimately, the grant will help to increase the efficiency of the bakery, leading to more business and the hiring of more employees.
"Grants like these strengthen our mission, enabling us to attain greater efficiency and offer more jobs to community members," said Greyston President and CEO, Mike Brady.
"We believe Greyston's diverse programming will help lead the Hudson Valley Region through the ever-changing times of Workforce Development," remarked Sonja Brown, Regional Director of the Workforce Development Institute.
Greyston Bakery is part of a multifaceted community development agency and social enterprise serving southwest Yonkers, NY. Founded in 1982, their suite of results-driven programs include the nationally-recognized bakery, housing, community gardens, child care, and job training. While Greyston's programs are operated under a nonprofit component, the bakery is a for-profit entity and certified NYS Benefit Corporation with a triple bottom line. They hire staff through a method called Open Hiring, in which anyone willing to show up every day and work hard is given a chance. After years of refining this approach, Greyston Bakery is considered one of the world's leading social enterprises and serves as a model that can be replicated in other distressed communities.
The Workforce Development Institute is a statewide non-profit geared toward growing and assisting businesses and providing employment opportunities for New York's citizens. Their mission is to improve the lives of people across the state by developing regional solutions for workforce, economic, and community developing challenges. To carry out this mission, WDI provides training and assistance grants to community groups, businesses, unions and local governments. These grants help businesses and workers keep pace with changes in skills requirements and in the marketplace.
The Hudson Valley office of the Workforce Development Institute, with the technical assistance of partners such as HVTDC, looks forward to assisting companies like Greyston achieve their goals and meet their training, expansion, and development needs. For more information, please contact Phyllis Levine, Manager of Marketing and Administration, at 845-391-8214 ext. 3001, or via email at phyllis.levine@hvtdc.org