Thanks to the ambitious leadership of Greyston Bakery, the city of Yonkers is making great strides in providing opportunities for employees of all skill levels. Greyston is now a world class food production facility thanks to their investment in process improvements and Lean manufacturing.
Greyston has spent the past year improving the overall effectiveness of their day-to-day production practices. At the outset, they worked to institute an organizational strategy and structure for their Open Hiring process which enables employees to receive jobs regardless of their backgrounds. Greyston then scaled up the bakery operation to include full production of cookies & brownies for Whole Foods Market.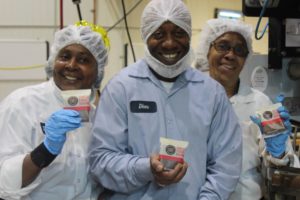 Next, they established a system to gauge quality metrics during cookie and brownie production to meet product specifications. Consequently, the bakery has instituted visual productivity metrics, implementing a production scoreboard to provide real-time analysis and improvement opportunity reporting. They are now working on an expanded use of the bakery's computer systems to support order entry, production planning, materials requirements funding, automated box labeling, and order fulfillment.
The culmination of these efforts resulted in a cost savings total of $68,000 and prevented the need for the bakery to invest $45,000 in production practices. It also created ten new jobs and generated a $100,000 investment in employee development and information systems.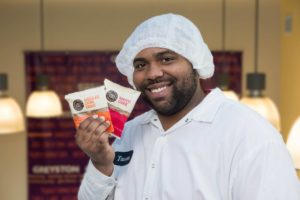 These improvements were the driving force behind Greyston's application for a significant Workforce Development Institute grant, which was awarded to them this spring. The funds will be used in support of the purchase and implementation of PRIMS Production Wizard software to further improve operations at the bakery. The new software will allow the organization to manage, monitor, and report on productivity for all functions, improving operational efficiencies and ensuring continued success of the program. The new capabilities will afford them the ability to better monitor costs, compete effectively in the market, win more business, and grow their employee base. Ultimately, the grant will help to increase the efficiency of the bakery, leading to more business and the hiring of even more employees.
"Grants like these strengthen our mission, enabling us to attain greater efficiency and offer more jobs to community members," said Greyston President and CEO, Mike Brady.
To learn more about Greyston Bakery and The Greyston Foundation, one of the world's leading social enterprises, visit www.greyston.com.
HVTDC Senior Project Engineer, Phil VanOss, provided Lean support, mentoring, and assistance to Greyston management and staff throughout the duration of the transition project.
For more information on lean management and grant applications, contact Phyllis Levine, Manager of Marketing and Administration, at 845-391-8214 ext. 3001, or via email at phyllis.levine@hvtdc.org