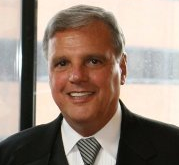 HVTDC Featured Expert of the Month: Wayne Babie
Wayne Babie has over 30 years of experience in manufacturing and capital equipment, having held various senior technical and global management positions at IBM and several major semiconductor equipment manufacturers. His expertise includes introducing new products and technologies, developing and optimizing robust manufacturing processes and fostering collaborative partnerships with strategic customers and suppliers. He has experience in a wide range of operations including R&D, process and materials development, product development, supplier/vendor selection and qualification, manufacturing, technology transfer and applications, business development, service and sales, and marketing.
Wayne received a B.S. degree in Chemistry from the State University of New York at New Paltz. He also holds two patents in the field of semiconductor process technology and has published several papers in the areas of semiconductor processing and materials development and characterization. His affiliations include membership in the American Chemical Society, the Electrochemical Society, the American Association for the Advancement of Science, and Semiconductor Equipment & Materials International.
He also is the Founder and Managing Director of Krios Associates LLC, a privately held independent management, Scientific and Technical consulting firm primarily focused in the high tech industry with specialization in semiconductor manufacturing, capital equipment and electronic chemicals and materials.
Drawing on his knowledge base and years of experience, he provides technical and sales consulting services to manufacturers in the region helping them to develop products and business opportunities. He is currently helping small to mid-size businesses set up their sales organizations and assisting with business development. Most recently, he is providing business development services to a start-up company to help develop sales for their new product offering and has connected them to several potential clients including a major electronics manufacturer with whom they are currently engaged.
Your company can be the next in line to benefit from these services that Wayne and HVTDC provide:
Manufacturing Process & Development Optimization
Technology Transfer
Project / Program Management
Business Development
Strategic Account Management
Materials Development
New Product Development
Operations Management
Customers / Supplier Relationship Management
Partnership & Alliance Development
For further information or to schedule a visit, contact John MacEnroe at 845-391-8214 ex. 3004, or via email at john.macenroe@hvtdc.org.