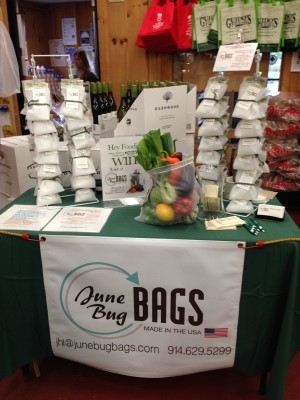 As a long-term growth solution provider, the Hudson Valley Technology Development Center (HVTDC) has become the go-to organization for Hudson Valley manufacturers in need of supply chain services. Our engineers enable clients to identify competitive advantages and connect with other businesses to develop and implement growth opportunities.
Most recently, June Bug Bags, a producer of locally made reusable loose produce and bulk goods bags, has benefited directly from HVTDC's supply chain support. The up-and-coming Kinderhook, Columbia County, NY company required a textile manufacturer with the capacity to deliver its sample materials and advance its product. After Heather Lloyd, President of June Bug Bags, met HVTDC Regional Innovation Specialist, Everton H. Henriques, at a Solutions Forum during the RPI/CEG Advanced Manufacturing Conference, the "solution" became clear.
On behalf of June Bug Bags, Everton performed research and contacted Herkimer Industries in New York's Mohawk Valley. After establishing that the contract packaging, sewing, and design manufacturer possessed the capabilities required by June Bug Bags, they were contracted to take on the project. When Everton brought both parties together, Herkimer Industries was presented with samples and materials. Upon performing a time study, they reverse engineered the bags before producing and submitting pattern samples to June Bug Bags for review.
Having approved the prototype model, June Bug Bags delivered all materials to Herkimer Industries to develop the final design and produce the bags according to mutually agreed specifications. The bags are currently in production.
Heather anticipates the collaboration will allow June Bug Bags to sustainably produce in volume and bolster their supply with the rising demand. June Bug Bags can expect a stable increase in their output once the bags become commercially available.
Critical to the success of this project was the collaborative effort of HVTDC, June Bug Bags, and Herkimer Industries. Through its broad manufacturing background and contacts, HVTDC enabled both parties to share their skillset and focus on specific elements of the creative manufacturing process, while solving the challenge of limited resource availability. The results are skilled forces working together toward advancement and success.
"We want our bags to be manufactured in New York State," said Heather. "By introducing us to Herkimer Industries' quality sewing facility, HVTDC gave us the resources we needed to expand our workforce locally. Herkimer Industries is growing our relationship by providing design and pattern services, and by connecting us with other partners in the area. Meanwhile, HVTDC is helping us move into new market segments through grant application assistance and innovative new product design. This assistance is invaluable to a new small-business owner."
June Bug Bags' mission is to practice environmental stewardship by reducing non-renewable plastic and paper waste, support the community by creating new jobs in textile manufacturing and assembly, and create products that are 100% U.S. made, from the fiber and fabric to printing and production. The breathable and toxin-free bags are designed to be carried in a pocket, filled at the store, and weighed at the register before being stored in the refrigerator where contents are kept fresh far longer than plastic. They can then be tossed into the washing machine when soiled for repeated use. By offering this product, June Bug Bags hopes to eventually replace the plastic bag rolls and ultimately reduce the billions of plastic bags thrown away each year. To learn more about the company, visit the website atwww.junebugbags.com.
For more information on HVTDC and its supply chain services, please contact Business Development Director, John MacEnroe, at 845 391 8214 ext. 3004, via email at john.macenroe@hvtdc.org, or visit www.hvtdc.org.