On Friday, March 18, manufacturers from across the Hudson Valley were introduced to the latest updates to ISO 9001:2015. Chuck Mitman, Co-Founder and President of PRISM International, lead the workshop, the first of its kind hosted by the Hudson Valley Technology Development Center (HVTDC) and sponsored by Orange County Trust Company.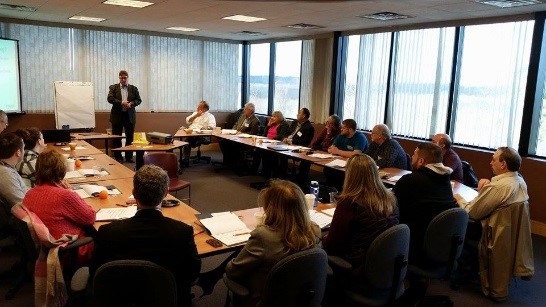 Taking place in the Larkin Conference Room in New Windsor, NY, participants delighted in a continental breakfast before Chuck reviewed the changes and revisions in technology, business diversity, and global commerce. Upon examining implementation schedules and risk management, Chuck resolutely declared what he'd repeat several times throughout the morning: "Don't think of it as being ISO certified; think of it as the way you do things." Much of the discussion emphasized ISO as an organizational mindset and company culture – the transformation of a quality management system into a total business management system.
"The standard has changed dramatically as to its philosophy," said Chuck. "It has expanded in scope from a quality management system to a true management system platform. That means that business objectives and business management are now part of the scope of the standard and will be a scope of the audit."
Some notable additions to the update include a clause related to opportunity and risk management. This leads not only to higher customer satisfaction, but a renewed emphasis on the idea of interested parties and all the organizations that a company has to deal with in its space. Likewise, proper application of the standard cuts costs by reducing product defects, minimizing waste, increasing productivity, and accessing new market opportunities. Merely sustaining the ISO standard, however, is just a starting point for businesses aspiring to be world class, as Chuck emphasized the importance of going beyond required measures.
"ISO provides a roadmap – the tools, structure, and support to be on a continual positive path to bring forward conditions that effectuate processes and eliminate waste, but it doesn't end there," he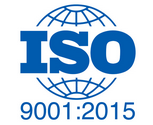 explained. "Just because something isn't required doesn't mean you stop doing what's working. In order to get everything aligned to work at its highest level, a little extra is always required. A process approach allows businesses to realize the full benefit of a management system by viewing and managing real processes affecting the quality of products and services offered."
Diane Passaro, Vice President of The Orange County Trust Company, might have had less to gain from the discussion, but listened attentively. Above all, she was honored to be an important part of the event. "It was a great presentation for area manufacturers to prepare them for ISO compliance," she said. "We know the importance that manufacturing brings to this area, and Orange County Trust Company is proud to be here as a sponsor to help manufacturing for the economy of New York State."
"I think that the event was critically important for the companies in the Hudson Valley," added Chuck. "Those who are already ISO certified are going to have to make this transition sooner rather than later, and the changes are significant enough that we feel that getting started now will be helpful for them as these new processes settle in."
With the ISO 9001:2015 revision officially released, participating businesses are better prepared to address the key changes these revisions will require and a better understanding of the transition periods. As demand has increased, a growing number of local businesses require support to sustain their ISO and QMS (quality management system) standing and ensure their products and services are safe, reliable, and of good quality. Lead Auditor Trained (LAT) certified professionals like Chuck have demonstrated the specific competencies to provide auditing and direct ISO services. For more information, contact Business Development Advisor, Ralph Brown, at 914-393-9876, or ralph.brown@hvtdc.org.