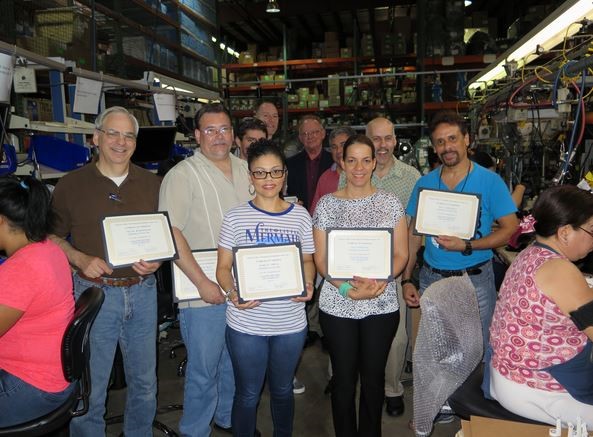 Congratulations to Lighting Services Inc (LSI) on completing their Lean
White Belt training and implementation. On Thursday, May 28, LSI staff
celebrated the achievement with a certificate ceremony following a
comprehensive six month Lean Kaizen training program
The hands-on approach, combined with actual
implementation, not only provided staff with the training and education,
but an improvement in time and resource management. Thanks to a new
assembly cell, the Stony Point lighting manufacturer is able to react
quickly to their customer base with significantly increased throughput,
reduced waste and per piece labor, and a 75% reduction in product cycle
time. This has enabled them to strengthen and maintain their leadership
position within the lighting industry.
"We're thrilled with the results of the training and
implementation," said LSI Executive Vice President, Ken Kane. "We targeted
one of our most popular product lines, and the results in terms of time,
quality, but most importantly employee involvement have been beyond our
expectations. We're working on rolling these tools and techniques out to
more areas of our factory."
The program's primary aim was to educate staff on all
the principles and tools within the Lean body of knowledge. The training
focused on critical areas and emphasized specific tools to achieve company
objectives. The staff acquired a basic understanding of the philosophy and
methodology of Six Sigma and Lean, while gaining knowledge on distinct
processes, including how to define, measure, analyze, improve, and control.
Critical for long term success, management and staff was provided the
fundamentals to work in a lean environment as they look to spawn further
advancement with a new ERP implementation system now underway.
HVTDC Principle Lean and Quality Systems Engineer,
Dave Tooker, provided the training, direct coaching, and expertise to LSI
staff and direct employees throughout the duration of the program. He
continues his relationship with LSI helping them with their ERP
implementation as he transfers responsibility to the company's White Belt
graduates to continue on a Lean course. Dave has also provided LSI with
periodic services since 2010 and lean assistance since 2013.
Lighting Services Inc is the premier manufacturer of
track, accent, display, and LED lighting systems, dedicated to designing,
engineering, and manufacturing of the highest quality. Their reputation for
creativity, innovative design, specification grade products, and
personalized service has made them the choice among the most discriminating
specifiers of lighting.
For more information on Lean application and training,
contact HVTDC Business Development Director, John MacEnroe, at 845-391-8214
ext. 3004, or via email at john.macenroe@hvtdc.org.