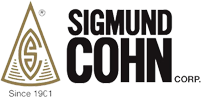 The Hudson Valley Technology Development Center (HVTDC) congratulates Sigmund Cohn Corp for the continued improvement of their manufacturing processes and the use of their internal ISO 9001:2008 Quality Management System (QMS). For the past two years, the Mount Vernon, NY precious metals wire and precision fabricator has refined and improved their QMS, making considerable progress on their internal and customer performance requirements.
Over the years, representatives of worldwide industries at the forefront of new technologies have become Sigmund Cohn's valued customers. These businesses rely on Sigmund Cohn's fabricated, high quality precious metal wire and custom metal machine products. Serving several industries that produce automotive, semiconductor, medical, and aerospace products and devices, Sigmund Cohn Corp is dedicated to continual improvement practices to retain high levels of customer service and gold status for several of its customers.
Sigmund Cohn has worked to address conformance to the ISO standard, rolling out continuous improvement initiatives such as 5S, standardized work, and anticipated process control.  After conducting operational assessments and establishing corrective actions, they are more effectively handling product-related issues at the source, minimizing escape risk while reducing product defects and improving key metrics impacting the business.
HVTDC Principle Lean and Quality Systems Engineer, Dave Tooker, provided the training and direct coaching throughout the process. He continues to guide the Sigmund team on the use and application of their QMS, providing direct hands-on support with quality and operational services.
"The expertise that Dave Tooker and HVTDC provides has been invaluable to SCC on many levels, more than just ISO," said Sigmund Cohn Corp Director of Logistics and Planning, Tom Overacker. "In addition to assisting in ERP selection and implementation, he's delivered insight into managing compliance to flowdown requirements from top tier customers which is a growing challenge for small manufacturers."
"With the increasing pressures of the global supply chain, companies that effectively align their quality management system with ISO and partner with their customers' requirements are gaining a solid competitive edge, and, in turn, retaining and increasing sales," said Dave.
Sigmund Cohn Corp continues to receive higher customer ratings and score cards while retaining sales and a positive market position. Currently, they are planning to transition to the ISO 2015 standard and continue to identify and modify the products and processing systems to satisfy the global marketplace and maintain their leadership position.
The worldwide precious metals industry has experienced several consolidations and transitions – yet Sigmund Cohn Corp has never has lost sight of its more than 100-year-old mission to offer the very best products and services available with the highest value possible. For more information on Sigmund Cohn Corp, call (914) 664-5300 or visit their website at www.sigmundcohn.com.
For more information on ISO AS9100 and QMS services, please contact Business Development Advisor, Ralph Brown, at 914-393-9876, or ralph.brown@hvtdc.org.