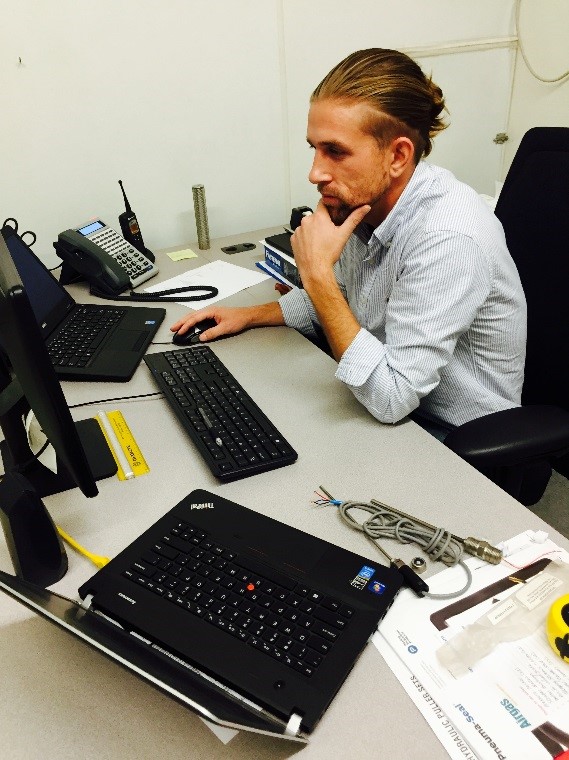 The Hudson Valley Technology Development Center (HVTDC) congratulates Travis Hayden for joining Stauber Performance Ingredients, Inc. as their new Lead Process Control Engineer, completing his two-year internship with HVTDC.
Travis' involvement with Stauber began at the onset of his internship in August, 2013. For the past three years, the Florida, NY manufacturer has performed a large-scale facility upgrade, paving their way toward world class stature as an ingredients manufacturer and supplier. Seeking to implement technical upgrades and enhancements, Stauber contracted HVTDC to provide technical, business, and program management support to augment their internal resources.
Over the course of his internship, Travis helped train and supervise Stauber employees in the proper use of new machinery and vital procedures with respect to the V-Blender, bagging line, bottling line, and heat ovens. He debugged, replaced, and refurbished every piece of equipment to revamp Stauber's bottling production line and upgraded three manual industrial pharmaceutical oven dryers by designing, developing, and implementing a control system to operate them more efficiently and precisely. His fine work throughout the past two years spurred a strong demand for his services in a more prominent position. Stauber management, recognizing his contributions to their world class initiative, and not wanting to chance losing him, made the offer three months prior to graduation in December when Travis will receive his Bachelor of Science in Electrical Engineering from SUNY New Paltz.
"Travis' engineering skills have proven extremely valuable in upgrading existing production equipment to improve the controls and throughput as well as reducing the possibility of errors and maintaining the historical data required in our industry," said James L. Kehoe, Vice President of Operations at Stauber's NY facility.
He is now responsible for designing and implementing Stauber's manufacturing processes while continuing to identify and develop equipment needed to produce their products. With critical structural improvements being applied to facilitate the company's ongoing applications and projects, Travis is expected to continue to hone his skills, building off his experience with HVTDC. Having worked on key projects and practiced the tools of the trade with HVTDC, he is confident in his skills and ability as a full-time engineer.
"My tenure at HVTDC in the internship program has prepared me for a seamless transition into full-time employment at Stauber," said Travis. "By allowing me the freedom to design, develop, implement and oversee multiple key projects, I was able to advance my skillset as an engineer and discover exactly what areas of engineering suited my personality and education."
Already developing important solutions and guiding the staff like a seasoned veteran, Travis could not stress enough the value of his time with the Center. "I'm thankful for the extensive network of contacts afforded to me through HVTDC. Without them, I would not have been appointed a full-time position in a nutritional supplement manufacturing facility and establish myself as a lead process controls engineer."
HVTDC currently employs four SUNY New Paltz undergraduate computer, electrical, and mechanical engineering interns working on various client projects. While fueling economic development, SUNY New Paltz's internship program with HVTDC has afforded several engineering students over the years with direct experience to broaden their education and prepare them for the workforce. Just months ago, two New Paltz interns were hired on a full-time basis as electrical engineers with Poughkeepsie design engineering and contract manufacturer, EAW Electronic Systems, Inc., a long-time client of HVTDC.
For more information on HVTDC and their internship program with SUNY New Paltz, please contact Bob Incerto at 845-391-8214 ext. 3017, or via email at bob.incerto@hvtdc.org.