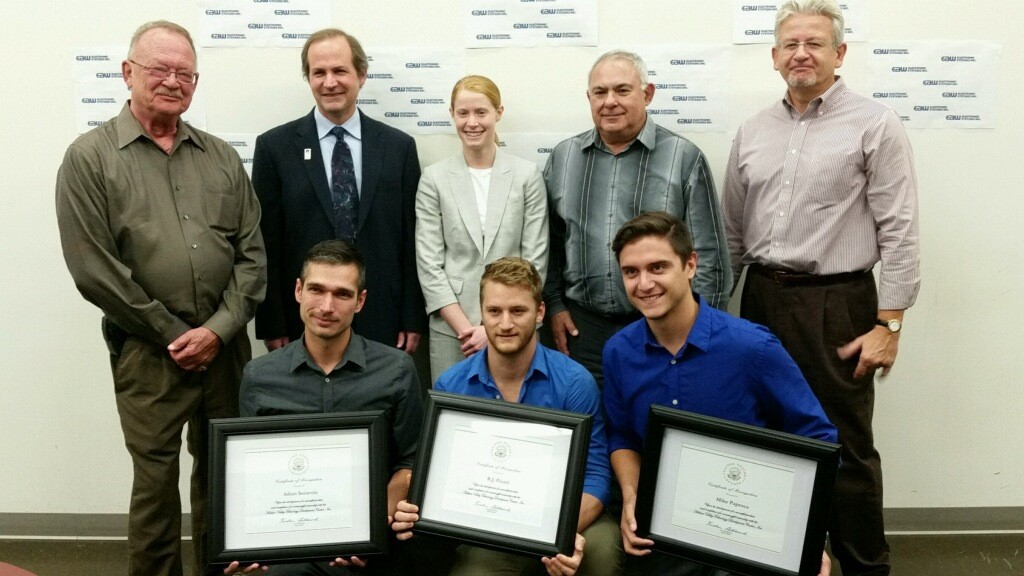 Left to right, top: Tom Phillips, Dan Freedman, Sarah Reingold, Bob Incerto, Edward Winiarski; left to right, bottom: Adam Secovnie, RJ Pisani, Michael Papesca
On Friday, October 2, Adam Secovnie, RJ Pisani, and Michael Papesca were recognized by U.S. Senator Kirsten E. Gillibrand with a certificate of recognition for the development of a successful product and completion of their internships with HVTDC. Regional Assistant to the office of Senator Gillibrand, Sarah Reingold, was joined by Dan Freedman, Dean of the School of Science and Engineering at SUNY New Paltz, Edward Winiarski, Owner and President of EAW Electronic Systems, Inc., Tom Phillips, Executive Director of HVTDC, and HVTDC Director of Engineer Consulting Services and Principal Engineer, Bob Incerto, to present the award to the young engineers.
The certificate recognizes their diligent work in the development of an EMC 20/20, a new product on the verge of introduction by EAW Electronic Systems, a Poughkeepsie design engineering and contract manufacturer. The EMC 20/20 is an innovative building automation system used to control a building's heating, ventilation, lighting, security, and air conditioning systems.
Their responsibilities spanned the design of the entire system, integrating hardware, firmware and software. The system features interoperability, developed around the industry standard building automation network communication protocols – BACnet. They were tasked with defining the eventual BACnet capabilities of the system, and worked on the embedded software for the system's network of wired and wireless sensors. This was while also developing embedded Linux applications to handle the data generated by the wireless and wired devices, leading to work on the cloud-based storage of the system and sensor data. With their web interface redesigned, they embedded firmware for the expansion translator board. This expansion translator board allows EAW to make use of new sensors without requiring a complete redesign of their existing product. As a result, EAW has effectively expanded its market and upgraded to new technology to support industry standard communication. The controls are now BACnet compatible and support heating, ventilation, air conditioning, lighting, security, and safety.
While Michael has chosen to continue his education at SUNY New Paltz in pursuit of a master's degree in computer science, Adam and RJ have joined EAW on a full-time basis as electrical engineers. They will be responsible for ensuring the continued development and application of the EMC 20/20.
Not only did Adam, RJ, and Mike work proudly as engineers behind the creation of the product, but their experience as interns provided them hands-on training to round out their education.
"National Manufacturing Day is an opportunity to encourage young people across New York to learn about the science and technology that goes into advanced manufacturing," said U.S. Senator Kirsten Gillibrand. "With support from SUNY New Paltz, EAW Electronic Systems, Inc. and the Hudson Valley Technology Development Center, these students have spurred innovation and exemplify the next generation of our skilled workforce."
The emerging relationship between HVTDC and SUNY New Paltz is crucial as HVTDC becomes the vocational arm for engineering students like the young men honored on that special day. Those interning at HVTDC are afforded the opportunity to apply their engineering skills to real world problems, a critical stepping stone from an undergraduate education into an engineering career.
"Over the last couple of years, we've built up a perfect synergy with HVTDC," said Dan Freedman. "We are educating really good students who are productive as interns and employees after they graduate. We hope to see more examples of our students directly helping companies like EAW. It really takes advantage of what SUNY New Paltz and HVTDC can do together to support the industry in the Hudson Valley."
For more information on internships and engineering partnerships, contact HVTDC Director of Engineering Consulting Services, Bob Incerto, at 845-391-8214 ext. 3017, or via email at bob.incerto@hvtdc.org.